Southern Trail News...

Family Cycle
Fáilte to all ages this Sunday (17th June) at 5pm for a Greenway family cycle commencing at Abbeyfeale's Old Railway Station. Bring your own bike or contact southerntrailgreenway@gmail.com if you need to hire a bike. A great opportunity for our neighbours across the Kerry Border to experience the delights of Greenways which will hopefully become a reality for Fenit, Tralee, Kilmorna and Listowel in the near future.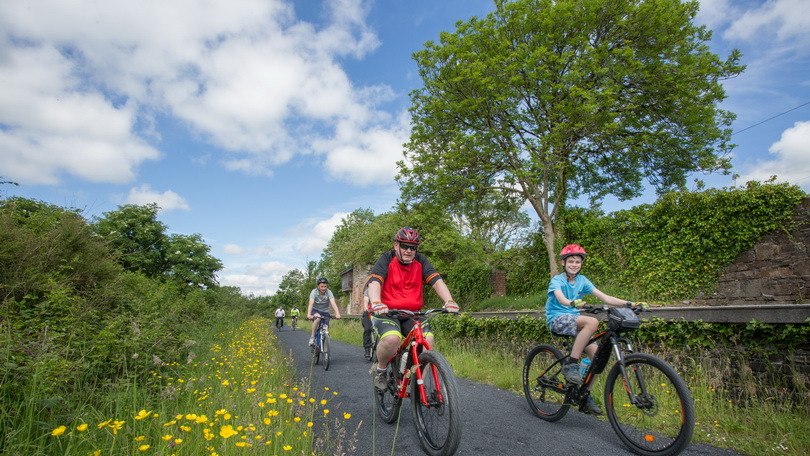 World Bicycle Day - Sunday 3rd June - Great Southern Greenway Limerick Event
A family cycle will be taking place on Sunday 3rd June. As well as celebrating World Bicycle Day, Limerick City County Council are also launching the town loops for each of the towns along the route. We hope that will assist the ongoing development of the Greenway. See Poster

Kerry County Council is holding a public consultation day regarding the proposed North Kerry Greenway – Listowel to Limerick County Bounds (Sluicequarter).
Venue
Date
Time
Fenit Parish Centre

Wednesday 23rd May 2018
11am - 8pm
Listowel Arms Hotel
(Greenville Room)
Thursday 24th May 2018
11am - 8pm

Maps of the route of the proposed greenway will be on display for inspection throughout the day. Kerry County Council officials will be available to discuss any aspect of the project on a one-to-one basis with landowners and interested parties during the hours specified above.

Eoghan O'Brien
Senior Executive Engineer,
Capital Infrastructure Unit,
Kerry County Council,
Princes Street,
Tralee.
V92 YX54
Irish Times: Walk for the Weekend" features the 17km Newcastle West- Rooskagh Loop including the Great Southern Greenway and minor roads
Walk for the weekend: Another greenway to try in Co Limerick
https://www.irishtimes.com/life-and-style/travel/walk-for-the-weekend-another-greenway-to-try-in-co-limerick-1.3458307

Visit to Barnagh Tunnel
Visiting Greenway experts from England and Wales, Chris Grimshaw, David Hall, David Judd and John Grimshaw enjoyed a cupán tae at Barnagh Tunnel during their visit to the Great Southern Trail (GST)on 13 April 2018.(see photo)

This was John's first visit to the tunnel since he wrote his comprehensive report on the construction of the Greenway thirty years ago. He looks forward to the tunnel being fully integrated into the GST in line with his proposals of 1988 as it is such an iconic feature of the old railway line.
Greenways illustrated lecture in Abbeyfeale
On Friday 13 April 2018 there was a large attendance at the Glórach Theatre, Abbeyfeale for the presentation by Greenways expert John Grimshaw from Bristol.

Thirty years ago John carried out the initial study recommending the conversion into a Greenway of the former railway from Ballingrane (near Rathkeale) to Tralee.

This was John's first time cycling the Great Southern Trail and he was accompanied by three fellow experts on their tour of several Irish Greenways.

His illustrated talk in Abbeyfeale which was organised by the Great Southern Trail Ltd. (GST voluntary group) attracted an audience from near and far.


Photo: L to R. Damien Ó Tuama, Dublin (Cyclist.ie); David Judd, Swansea (Greenway expert); Seán Thornton, Lixnaw; Kathleen Leddin, Limerick; Michael Guerin, Listowel (GST North Kerry Convenor); Róisín Ní Ghaorbhith, Clare; John Grimshaw, Bristol; Liam O'Mahony, Newcastle West (Cathaoirleach GST); Brian Leddin, (Limerick Cycling Campaign).

Great Southern Trail Annual May Bank Holiday Day Trip

A Coach will depart the Market Yard, Newcastle West on Monday 7th May at 7am for a visit to walk/cycle sections of the very scenic Great Western Greenway in the Achill area of County Mayo.
Breakfast and evening dinner en route will be included in the €60 cost (but bike hire will be extra). Due back in Newcastle West at 11pm. Payment to Pat Condon, Upr. Maiden St., Newcastle West. 069 62344 (5-6pm). Cheques payable to Great Southern Trail Ltd.
Beidh fáilte romhat!
Presentation by John Grimshaw
On Friday 13th April 2018 at 8pm the Great Southern Trail Ltd. will host a presentation in the Glórach Theatre, Abbeyfeale, Co. Limerick [alongside the Church on the N21].

The presenter will be John Grimshaw www.johngrimshawassociates.co.uk a pioneer of Greenway developments for over forty years. John and a few associates are visiting several Irish Greenways and the Great Southern had to be on their itinerary because it was John who walked the entire Ballingrane [Rathkeale] to Tralee route in the late 1980's during his survey of what was intended to be Ireland's first Greenway. Attached the comprehensive survey.
He, and his colleagues will cycle from Rathkeale to the Kerry Border and they are delighted to hear of the positive developments which will hopefully see the Greenway extended into North Kerry in the not too distant future.
John will outline his experiences in developing Greenways and the multiple benefits that accrue to communities as a result. For both dedicated Greenway enthusiasts and those who wish to inform themselves this will be a rewarding evening. Beidh fáilte roimh gach éinne.

Further dates for the diary:
[A] Coach trip to walk/cycle Mayo Greenway departing Newcastle West, Market Yard, 7am Bank Holiday Monday 7th May, due back 11pm. €60 includes transport, breakfast and evening dinner but not bike hire. Monies to Pat Condon, Upper Maiden St., Newcastle West : Tel. (5-6pm) 06962344
[B] Friday 25 May RTE1 T.V. " Nationwide" will feature the attractions of Newcastle West including the Great Southern Greenway
Barnagh Tunnel project in west Limerick likely to be delayed

ALMOST 11,000 walkers and close to 2000 cyclists have used the Great Southern Greenway since sensors were installed last July. https://www.limerickleader.ie
"Friends of the Great Southern Trail" Meeting: Leen's Hotel, Abbeyfeale; 8pm Thursday 15 February 2018.

Beidh fáilte romhat on Thursday 15th February at Leen's Hotel, Abbeyfeale at 8pm to meet and discuss the latest developments along the Great Southern Greenway.

2018 is scheduled to witness positive developments in both Limerick and Kerry by the local authorities. In Limerick the iconic Barnagh Tunnel is to become directly accessible from the Greenway through the provision of an underpass of the N21 road. The County Limerick 40km Greenway has already been upgraded and made more 'cycle friendly' by Limerick City & County Council since they took over management from the voluntary group, Great Southern Trail Ltd., over two years ago.

Recently the 10km section from the Limerick Border to Listowel has been cleared of vegetation by Kerry County Council who now own 50km+ of the old North Kerry railways. Further progress on development of the Listowel section is expected to follow as soon as is feasible. There are also positive signals regarding the extending of the existing Tralee Urban Greenway to Fenit.

The Great Southern Trail Ltd.(GST) and its Friends will continue to be advocates for the Greenway and the meeting in Abbeyfeale will discuss our strategy of support for 2018.

The GST is affiliated to the national advocacy body "Cyclist.ie" and also to the European Greenways Association whose Conference was held in Adare in September 2017 where both Limerick City & County Council and the GST were recipients of awards. The GST also arranges visits to Ireland's other railway Greenways with the Great Western route from Westport to Achill in the diary for Bank Holiday Monday 7th May.